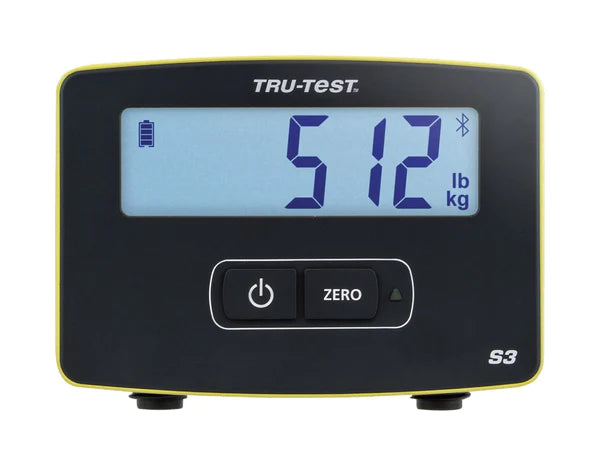 If you're shopping for livestock scales for your cattle or small animals, you have heard of scales from Trutest.
Trutest is the top brand of livestock scale in the United States and the rest of the world. Trutest is manufactured from Datamars.
if you are new to weighing cattle, we recommend the Trutest S3 scale system. The S3 system comes in several components. The most important is actually the scale head itself. It is easy to operate, fully portable and ideal for integration with several types of load bars, cattle chutes, and platforms. 
The Trutest S3 can accurately weigh livestock using the rugged and waterproof scale indicator
It's simple and easy to use and features Bluetooth connectivity so you can record cattle weights and configure settings using a data link offered free from Trutest.
Cattle scale load bars are also needed for the system. Alleyway systems are ideal for smaller producers where the cattle do not need the stress of being in a head shoot. Trutest MP600 low bars are a rugged and affordable way to collect accurate weights from cattle.
You also need a platform to weigh your livestock on. Trutest offers an alleyway platform that is made of aluminum yet durable and strong enough for the largest bulls.
Check out all of our Trutest livestock scales and cattle scale systems at www.speedritechargers.com
We are the best source for the best price and fast free shipping on cattle scales in the United States.
0 comments
Leave a comment