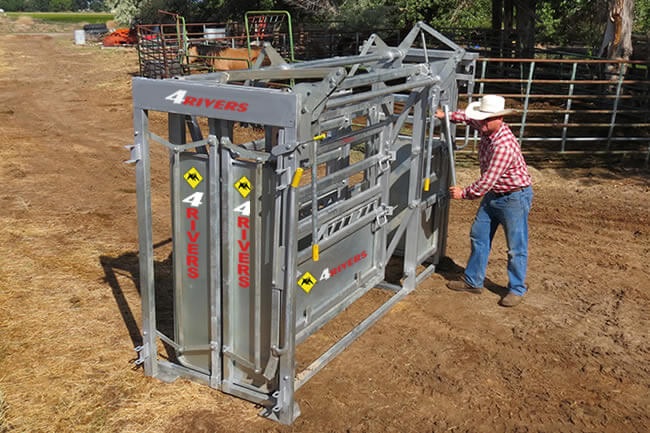 Need to buy a new Cattle Scale? Are you located in Tennessee? They have a grant program for getting a livestock scale on your farm or ranch.
The Tennessee Agricultural Enhancement Program (TAEP) was established in 2005 to provide cost share dollars to agricultural producers for the purpose of making long-term investments in Tennessee farms and communities. Participation allows producers to maximize farm profits, adapt to changing market situations, improve operation safety, increase farm efficiency, and make a positive economic impact in their communities.
More than $246 million has been invested in 80,860 producer projects from 2005 through 2022. Each TAEP dollar generates $6.55 in local economies.
More info at:  Livestock Equipment Grant
Equipment
Livestock Minimum Requirements
Certifications
Lifetime Limit
Cattle – 30 Head
Goats/Sheep – 50 Head
BQA – Beef and Dairy
Not Applicable
$1,600 Maximum Reimbursement
Standard 35% Cost Share    |   Master 50% Cost Share
50% Cost Share Eligible Master Courses for Livestock Equipment
Applicant must meet at least one minimum program requirement at time of application.
Head of livestock = maximum number of single type, regardless of sex or age, at one time during the last 12 months.
Goats/Sheep can be combined to meet minimum number requirement.
Eligible Items
New Equipment Only — Items 1 - 26
New items cannot be previously owned.
Items purchased at an auction are considered used.
Replacement parts are not eligible.
1. Add-on alley sheet
2. Animal scale/indicator
3. Automatic cube pellet feeder/cake feeder — scales optional at time of purchase only
4. Bunk feeder
5. Clover seeder — cone type 3-point hitch or ATV/UTV mounted seeder that broadcasts seed
6. Covered mineral feeder — stand alone and ground only
7. Creep feeder
8. Creep panel
9. Electronic identification (EID) reader
10. Feed bin — gravity flow or auger only
11. Feeder panel
12. Feed bin unload auger — maximum 29 ft. length
13. Fly sprayer and/or upright oiler — not eligible – stand-alone cloth rubs
14. GPS — display and/or receiver only
15. Hay ring/hay feeder
16. Hay unroller
17. Livestock trailer — min. 16 ft; at least one cut gate; must be titled in the applicant's name at time of reimbursement
18. Mobile calf catcher pen — ATV or UTV attachment; scales and/or hitch optional at time of purchase only
19. Pasture drag/harrow — commercially manufactured
20. Pasture gate — must be installed at time of reimbursement
21. Pasture sprayer — 100 gal. min. tank capacity; PTO, shaft, or hydraulic drive
22. Sheep/goat automatic milk feeding machine
23. Sheep/goat fitting stand
24. Sheep shear — min. 3 in. wide head, min. 2,000 RPM
25. Ultrasound — accessories are optional and eligible only if purchased along with ultrasound
26. Wick applicator/wiper — not eligible – handheld applicator

New or Used Equipment — Items 27 - 42
27. Alley frame
28. Alleyway
29. Carriage for squeeze chute
30. Continuous pipe panel — must be installed at the time of reimbursement
31. Corral panel — portable panel, gate in frame/bow gate
32. Crowding/sweep tub
33. Head gate
34. Headlock stanchion/palpation rail/stall loop
35. Hoof trimming table/chute
36. Loading chute for semi-trailer
37. Neck extender/brisket bar/head holder
38. Palpation cage
39. Rolling block door/alley back stop
40. Slant bar hay feeding wagon
41. Squeeze chute
42. Tilt/roll table
0 comments
Leave a comment