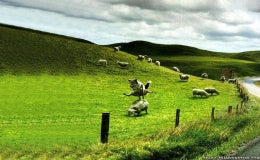 There are several things to consider when designing your paddocks. You'll need to think about:
the lay of the land,
access to shade and water sources, and
the placement of gates and lanes/alleys (paths for moving livestock back and forth from handling facilities or buildings).
A good rule of thumb is to use temporary fencing for several years to allow you to determine the best paddock size and layout before installing more permanent subdivision fencing. Keep in mind that staying with temporary fencing indefinitely allows more flexibility in paddock sizes and assures that you have the option to perform machinery operations, such as renovation and hay-baling without permanent fence in the way making these tasks difficult and time consuming.
0 comments
Leave a comment