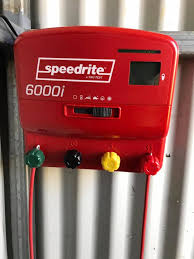 Fence energizers (also known as chargers) vary in their ability to electrify large amounts of fencing and to handle vegetation that is touching the electrified fence wires.


One way to protect buildings from fires due to lightning strikes is to mount the energizer outside of the building on a fence post. Cover the energizer to protect it from the weather. There are many ways you can protect it; this cover makes use of a repurposed plastic barrel.
Pulses
Chargers come in models that are designed to produce a very short pulse, while others produce a longer pulse. The shorter the pulse, the less likely the electric impulse will be to start a fire.
Power Supply
The power supply can vary also. Some plug into electric outlets, while others run off of batteries, and yet others use solar power. If electric power is available, use this power supply because it is the most reliable and usually the least expensive.
Joules
Joules is a method to measure energy units. Basically, the longer the fence, the higher joules you will need in your energizer. Fence length should be measured by multiplying the actual fence length by the number of wires that are electrified. So, if you have one mile of fence and three wires are electrified, you would need an energizer capable of handling three miles of fencing. Work with your local energizer supplier to help determine how many joules you need for your length of fencing and vegetation.
Impedance
Impedance is a measure of how much resistance is present in an electric fencing system. High impedance energizers work best when resistance is higher from dry grass touching the electric wires, when the soil is very dry, or when the fencing system could benefit from additional ground rods.
Low impedance energizers work best when resistance is low, such as during times of the year when the soil is moist, the grass is green, and there are plenty of ground rods installed. Some energizers are designed to withstand both conditions and are referred to as wide impedance energizers. They tend to combine medium to high voltage with much greater current levels.
0 comments
Leave a comment